Guide of Facilities
★ About the smoking of the inside of the house !
  Based on the health regime, it is possible to point to all public space no smoking.
  In case of the understanding, we request cooperation.
★ It is possible to use a restroom in the inside of the house completely comfortably at the  shower toilet with the toilet seat cleaner.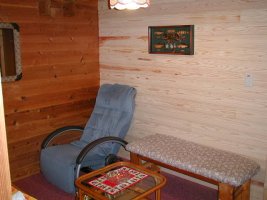 The dinner is the homemade of the owner salad soup and fish dish. meat dish, the rice, and the dessert and so on The Casual Western dish course menu Whose worked one of the secret ingredient of Japanese-style
As for the breakfast, the second helping is free about the breakfast of the American stile, bread coffee and tea.
The rubdown chair, self service one of green tea There are getting ready, a computer which can be for free used.
The refreshment room Use, being casual.
(All day, it is no smoking).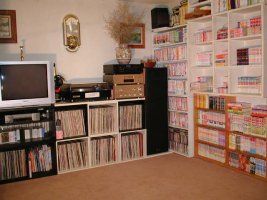 Doing 400 comic, 800 sheets of the record and CD, the game Some various playroom. Spend after-dinner temporariness quietly.
(All day, it is no smoking).

The completion of "leg hot water" that the owner is handmade on July 6th in 2004 !
In the liberty in the more passing one in addition to the guest, too
It is possible to use. The use period is the end of October from May.
It is and in the winter, it isn't possible to use. Norikura Highland and Kamikochi
It is happy if it is possible to use for the back of the hike which is.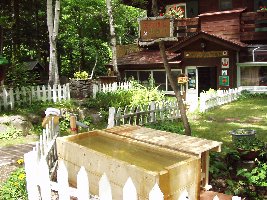 The stuffed animal of the deer and the genuine alpenhorn Some light dining room which is There are a photograph and an attachment in Switzerland in the places and they are Alpine.
(All day, it is no smoking)

Spa is the natural hot spring in the handmade log house of the owner. There is Stone sauna, too, and the fragrance of the tree is full.
By the warming-up sense of water quality's containing a lot of iron in the neuter hypotonic spa behind the bathing
It lasts. Of course, it is possible to be bathed for 24 hours anytime.
It is possible to use, being on weekdays reserved. (In the busy period, it excludes).
See a Norikura suzuran spa HP about the ingredient and the effect on the spa and so on.